1925:  All Los Angeles Railway "Motormen" must qualify to work on all lines, requiring regular oral and written examinations.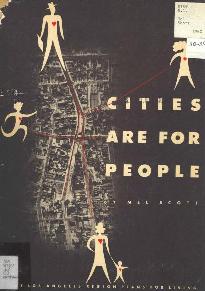 1942:  Mel Scott, Alvin Lustig and Bob Holdeman submit their report Cities Are For People: The Los Angeles Region Plans For Living to the Pacific Southwest Academy.
The report provides an extensive overview of the history, topography and urban growth of the Los Angeles Region before addressing some of its challenges.
Side-by-side aerial photographs of the Mid-City and Hollywood areas comparing 1922 and 1932 illustrate the rapid growth of the Los Angeles Basin in the decades leading up to the report.
A section on "Motorized Living" explains that the establishment of The Goodyear, Firestone, Goodrich, and United States Rubber Companies in this region reinforced Angelenos' love affair with the automobile despite the increasing challenges of congestion and sprawl.
The introduction notes that while the report "champions no specific plans,":
The beginnings of the community of tomorrow are already before us.

Two links of a great parkway system that some day will unite all parts of the Region have been built, the Arroyo Seco Parkway and the Cahuenga Parkway.
The report goes on to state that "transportation fever has attacked the circulatory system," but that "new motorways are not a cure all."
The report suggests that grade separations, "slot" type intersections, clover-leaf interchanges, divided roadways, off-street parking, by-passes, large well-placed signs, screen planting, freeways and parkways would reduce congestion, increase safety and beautify the region's roadways.
The transportation chapter concludes with this promotion of appropriate urban planning and renewal:
The creation of these great motorways will bring new problems, however, if we are not foresighted.

Freeways, like some of the boulevards that we have widened, may invite people to move still further into the ocuntry, leaving decaying and unsightly sections behind them.

At the same time that we plan freeways, we must replan the older sections of our cities, creating neighborhoods filled with open spaces, attractive dwellings, and local streets as safe as the main arteries.