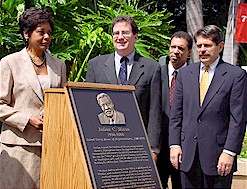 2001:  Los Angeles County Metropolitan Transportation Authority officials unveil a plaque honoring the late U.S. Congressman Julian Dixon.
In a ceremony on Patsaouras Plaza, the Congressman's widow Bettye Dixon and son Cary are joined by LACMTA Board Chairman John Fasana, Los Angeles County Supervisors and Board Members Yvonne Bathwaite-Burke and Zev Yaroslavsky, Los Angeles City Council President Alex Padilla, City Councilman Nate Holden and LACMTA CEO Julian Burke.
Dixon, a member of Congress for 22 years, was a longtime supporter of public transit projects in Los Angeles, including the Metro Rail and Metro Bus systems.
Supervisor Burke, who proposed the motion to name the 7th/Metro station for Dixon, said the Congressman:
"knew that Los Angeles County needed a viable public transportation system. He fought for rail; he fought for subway; he fought for buses. He devoted himself to ensuring the future for Los Angeles County transit."
The plaque is later placed in the recently renamed 7th/Metro/Julian Dixon Metro Rail station.
Additional information about and images from the plaque unveiling can be found here.