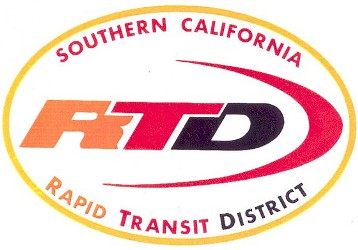 1964:  The Southern California Rapid Transit District is established as the successor to the Los Angeles Metropolitan Transit Authority.
The SCRTD Act specifies that County officials serve as officers and sets in motion a legal timeclock specifying how the agency will operate and merge with the existing transit system, run it, and plan a new rapid transit system.
L.S. Hollinger, Chief Administrative Officer of Los Angeles County, assumes the role of SCRTD General Manager.
SCRTD serves the urbanized Southern California region, including Los Angeles County, San Bernardino County, Orange County, and Riverside County.
The District replaces LAMTA (the major predecessor public transit agency) and takes over the operations of eleven different private transit companies in the region.
SCRTD is charged with creating a new mass transit public transportation system for Southern California, as well as planning for bus improvements. It is given authority for eminent domain, taxation and local representation; key tools for building the mass transit system that the LAMTA did not have.