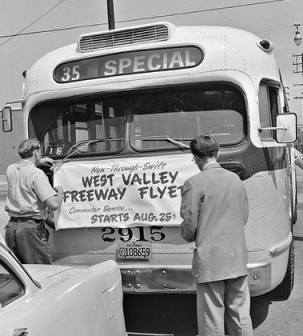 1958:  The Los Angeles Metropolitan Transit Agency establishes "West San Fernando Valley "Freeway Flyer Service" as peak-hour, limited-stop bus service to downtown Los Angeles.
It connects Reseda, Tarzana, Encino, Sherman Oaks and Studio City to the central business district via Reseda Boulevard, Ventura Boulevard and the Hollywood Freeway.
Patronage steadily increases, eventually resulting in 14 daily trips.