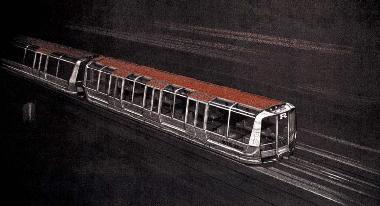 1960:  The Los Angeles Metropolitan Transit Authority releases its comparative analysis of its proposed rapid transit system and routes.
It's the first reference to a "Metro System" for Los Angeles, describing it as "one of the first truly rapid transit systems in the world.
The report recommends a mix of overhead monorail and rubber tires trains on rights of way to serve four corridors:
Downtown Los Angeles to Covina
Downtown Los Angeles to Long Beach
Downtown Los Angeles to Santa Monica via Wilshire Boulevard
Downtown Los Angeles to Reseda
A second phase would serve San Fernando, Pasadena, Santa Ana and Inglewood.
The Urban Mass Transit Administration (predecessor to the Federal Transit Administration) did not yet exist, nor did any dedicated state or local revenues for the capital costs.
A new mass transit system would have to wait.