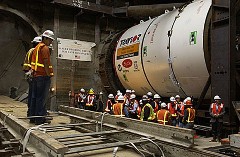 2006:  Tunneling begins on Metro Gold Line Eastside Extension.
Two tunnel boring machines start boring through 1.7 miles of earth between Union Station and Boyle Heights.
Narrow streets in the area make tunnels a requirement for this section of the Gold Line, rather than street-level rail.
We have put hundreds of photographs online which document Gold Line Eastside Extension construction.
In addition to tunneling and tunnel boring machinery, they include underground photos, rail cars, trackwork, street preparation, deck work, signage and aerial photographs.