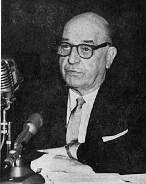 1964:  A summit meeting of members of the Los Angeles County Board of Supervisors and Los Angeles city officials is held, along with State Assemblyman Tom Carrell, Chairman of the Assembly Interim Committee on Transportation and Los Angeles Metropolitan Transit Authority officials.
LAMTA's Legislative Committee Chair Martin Pollard proposes several amendments to the MTA Act to get the mass rapid transit question out of the "talking stage" into the "do-something-now" stage.
These include the power of eminent domain, the power to levy the "in lieu" tax on automobiles, issuance of a general obligation bond upon authorization by the voters, and appointment by local authorities to the Board.
Pollard reports:
"Give MTA the tools it needs to work with and it will fashion for you, and the people of Los Angeles County, a mass rapid transit system second to none in the world.

MTA is ready, willing, and able. It has the experience, it has the plans, it has the know-how. It is wound up and ready to go. All it needs is the starter flag."