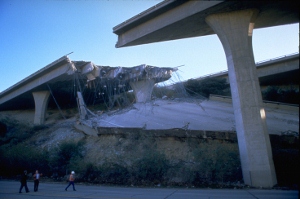 1994:  A magnitude 6.7 earthquake strikes Los Angeles at 4:31a.m.  The quake, centered near Northridge in the San Fernando Valley, impacts transit and transportation across the region.
However, Metro achieves 94% service delivery on buses and Blue Line light rail on January 17 despite debris and closed streets, and accomodates many new commuters who take to public transit for the first time.
California Governor Pete Wilson later convenes an Emergency Transportation Relief Task Force, with LACMTA officials heading up two of the four subcommittees.
Full coverage of Metro's response to the earthquake includes plans to restore and rebuild service.