1993:  Los Angeles' Metro Red Line subway opens to the public between Union Station and 7th/Metro Station in the city's financial district, carrying nearly 53,000 riders.
Another 91,000 passengers are carried the following day, a Sunday.
Celebrations reflecting the city's rich multicultural heritage keep crowds entertained at every station.
Jugglers, clowns, musicians and popular television characters mix with folkloric dancers, mariachi musicians and popular radio personalities, with the Civic Center area draped in red, white and blue for its "Spirit of L.A."-themed celebration hosted by the County of Los Angeles.
Initial ridership is 25,000 boardings per day, with 5 million riders in the first year of operation.
The day before the public opening, numerous dignitaries dedicated and rode the subway at a press event.
At that time, California Governor Pete Wilson proclaims that "This is a great day.  In 30 years, this will be the most magnificent transportation system in the world."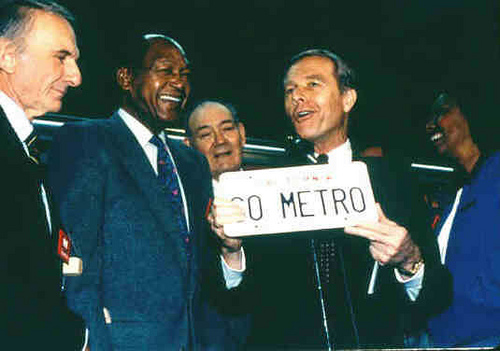 Two days after the opening, the Los Angeles County Metropolitan Transportation Authority begins its first day of business.
Exactly two years later, on January 30, 1995, Alhambra resident Jerry J. Phillips is honored as the Metro Red Line's 10 millionth passenger.
In January, 2013, the Civic Center Station would be renamed in honor of Mayor Bradley.
An extensive 20th anniversary story of the Metro Red Line subway opening can be found here, while a lengthy look back at the first 10 years of Metro and the subway from 2003 can be found here.