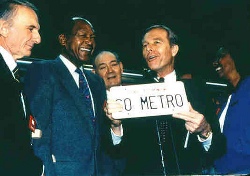 1993:  Metro's Red line Segment 1 opens carrying passengers 4.4 miles between Union Station and MacArthur Park.
California Govenor Pete Wilson joins Los Angeles Mayor Tom Bradley, Supervisors Ed Edelman and Yvonne Braithwaite Burke and City Councilman John Farraro in opening Los Angeles' first modern subway.
Celebrations reflecting the city's rich multicultural heritage keep crowds entertained at every station.
Jugglers, clowns, musicians and popular television characters mix with folkloric dancers, mariachi musicians and popular radio personalities, with the Civic Center area draped in red, white and blue for its "Spirit of L.A."-themed celebration hosted by the County of Los Angeles.
Initial ridership is 25,000 boardings per day, with 5 million riders in the first year of operation.
Two years later, on January 30, 1995, Alhambra resident Jerry J. Phillips is honored as the Metro Red Line's 10 millionth passenger.
Two days after the opening, the Los Angeles County Metropolitan Transportation Authority begins its first day of business.