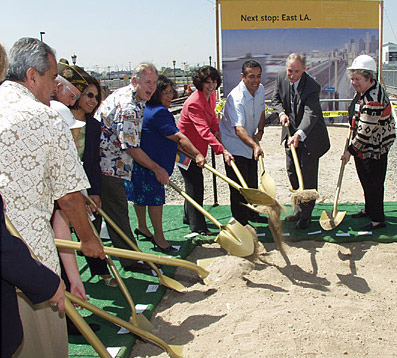 2004:  A groundbreaking ceremony is held at Union Station for the Metro Gold Line Eastside Extension project.
The $898.8 million design-build project will later connect Union Station to stations in Little Tokyo, Boyle Heights and East Los Angeles.
At the ceremonies, U.S. Congresswoman Lucille Roybal-Allard states:
"Today's groundbreaking marks the beginning of our victory celebration — a victory that will help to enhance the quality of life of families in Little Tokyo, the Arts District, Boyle Heights and the East Los Angeles Community."
Los Angeles County Supervisor Gloria Molina notes that:
"This six-mile extension of the Gold Line will serve the most highly transit-dependent community anwhere in this county. It will connect to the entire regional system and we're very, very proud of that."
Several other speakers, including Los Angeles Mayor James Hahn, praise the project as an historic day for Los Angeles and its Eastside residents.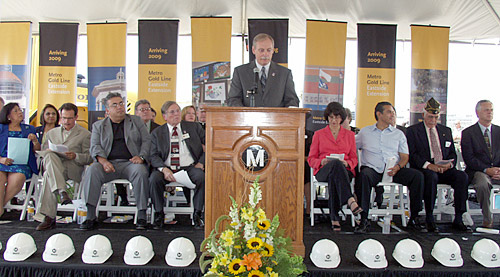 The construction of the entire Gold Line Eastside Extension project is well documented, with hundreds of construction photos available here.