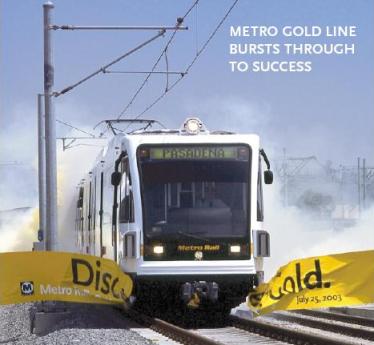 2003:  The Metro Gold Line opens to the public between Union Station in downtown Los Angeles and Sierra Madre Villa in East Pasadena.
Our first new light rail line of the 21st century costing $859 million runs along the former Atchison, Topeka and Santa Fe railroad rights-of-way.
The 13 station, 13.7-mile line takes 36 minutes to travel from end to end.
Approximately 159,000 passengers "discover gold" during opening weekend.
At the official dedication the day prior, LACMTA Board Chairman Zev Yaroslavsky and CEO Roger Snoble are joined by 500 VIP guests and a large contingent of regional and national media for opening ceremonies at the historic Union Station ticket room.
It is estimated that the Metro Gold Line will carry an average 26,000 to 32,000 boarding passengers each work day and will eliminate three million automobile trips in its first year alone.
This Metro Gold Line FAQ contains more information on the project at its opening.
More information about Gold Line planning, construction and opening can be found in both the Spring/Summer 2003 and Fall 2003 issues of Metro Quarterly.