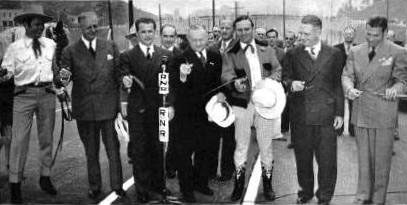 1940:  The Cahuenga Pass Freeway opens to public traffic.Los Angeles Mayor Fletcher Bowron is joined by California Governor Culbert L. Olson and Public Works Administration Regional Director K.A. Godwin in dedicating "the first unit of one of the most beneficial highway projects ever undertaken in the Los Angeles metropolitan area."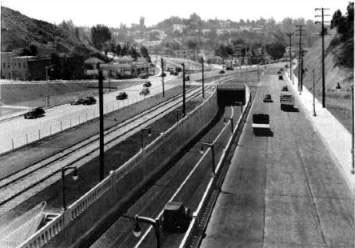 The project eliminates a "bottleneck" of congestion that had existed for three decades.
Four twelve-foot traffic lanes are constructed in each direction.
The San Fernando Valley line of the Pacific Electric Railway is relocated to serve as the central dividing strip between opposing lanes of vehicular traffic.
The dedication ceremonies are followed by a luncheon at the Hollywood Bowl.
More information on the project can be found here.