1984:  The Urban Mass Transit Administration (UMTA) ranks Metro Rail as the most cost effective new rail system in the nation.
More information about this distinction can be found in the June, 1984 issue of the Southern California Rapid Transit District's Metro Rail News.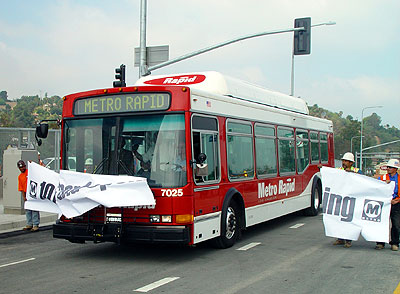 2002:  The Los Angeles County Metropolitan Transportation Authority joins elected officials to officially open a new 101 Freeway overpass adjacent to the Metro Red Line subway station and Metro Rapid Bus stop at Universal City.
Construction began in December, 1999.
The $34.6 million, six-lane bridge spans the 101 Freeway to link Ventura Boulevard with the Universal City Metro Red Line station via a new access street now known as Campo de Cahuenga Way.
The overpass also features a pedestrian walkway, on-and-off-ramps from the 101 freeway, a Universal City Station Bus Plaza, 790 additonal parking spaces and the widening of nearby Lankershim Boulevard.
More information about the freeway overpass opening and launch of Metro Rapid service can be found in the June 7, 2002 issue of MyMetro, the LACMTA online employee news digest.