2006:  FlyAway Airport Shuttle service between Los Angeles' Union Station and Los Angeles International Airport is launched.
Service begins with buses running both ways every 30 minutes on the hour and half-hour between 5:00 a.m. and 1:00 a.m. on weekdays and weekends.
The buses will make the trip in 45 minutes or less by using high-occupancy vehicle lanes on the 110 and 105 freeways.
For the first two weeks of service, passengers presenting tickets or passes from public transit operators, including taxi receipts, receive a free FlyAway roundtrip ticket.
At the ceremonies, Los Angeles Mayor Antonio Villaraigosa explains that "The FlyAway is a great concept.  Because, while it gets people out of their cars, it also cuts air pollution and provides LAX passengers with a high-quality, dependable and low-cost ground transportation service."
Los Angeles County Metropolitan Transportation Authority CEO Roger Snoble states that "the introduction of FlyAway Airport shuttle service at Union Station, L.A.'s major transportation hub, provides an invaluable new service option for Metro's transit customers.  The multitude of bus and rail connections at Union Station make the convenience of FlyAway service available to tens of thousands of daily transit riders."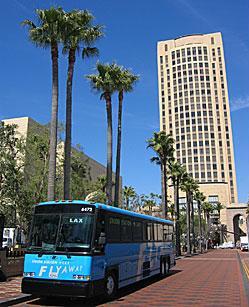 More information can be found in the March 15, 2006 issue of MyMetro, the LACMTA online employee news digest.