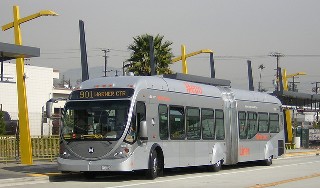 2003:  A groundbreaking ceremony is held for the Metro Orange Line.
Originally known as the San Fernando Valley East-West Transitway, then later the Metro Rapidway, the bus line would open on October 29, 2005 to enormous popularity.
It runs from the North Hollywood Metro Station westward across the San Fernando Valley to Warner Center in Woodland Hills, following part of the Southern Pacific Railroad Burbank Branch Line which provided passenger rail service between 1904-1920 and was subsequently used by Pacific Electric Railway streetcars between 1938 and 1952.