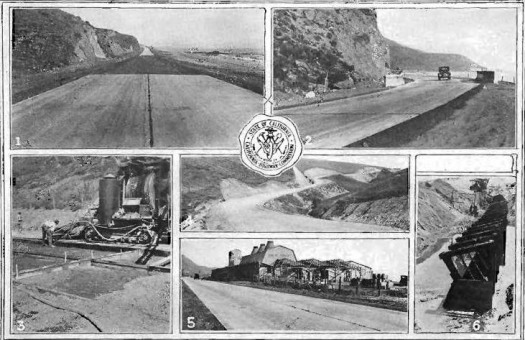 1926:  Construction crews complete 16.13 miles of roadway grading through the "famous Rancho Malibu" (from Arroyo Sequit to Las Flores Canyon), paving the way for construction of the Roosevelt Highway (later, Pacific Coast Highway).
The battles, legal and otherwise, for construction of a coastal highway from Santa Monica to Oxnard had been ongoing for years, with litigation reaching even the United States Supreme Court.
Plans for the Malibu project were added to state highway system by bond issue in 1919 as part of an overall Oxnard-to-San Juan Capistrano coastal highway.
According to the January, 1927 issue of California Highways and Public Works:
"The inaccessibility of the Malibu region, by road or rail, presented difficulty in the handling of material.  Therefore, the proportioning plan for the entire job of necessity was located near the Santa Monica city limits on the Pacific Electric line and materials were hauled in batches from that point.  The minimum haul was nearly seven miles and the maximum was over thirteen miles.  Materials were shipped to the job in gondolas, where they were unloaded by crane."