1978:  Los Angeles County Supervisor Baxter Ward presents plans for the Sunset, Ltd., a limited start-up of the Sunset Coast Line, to the Los Angeles County Transportation Commission, the Los Angeles County Board of Supervisors, and the Board of Directors of the Southern California Rapid Transit District.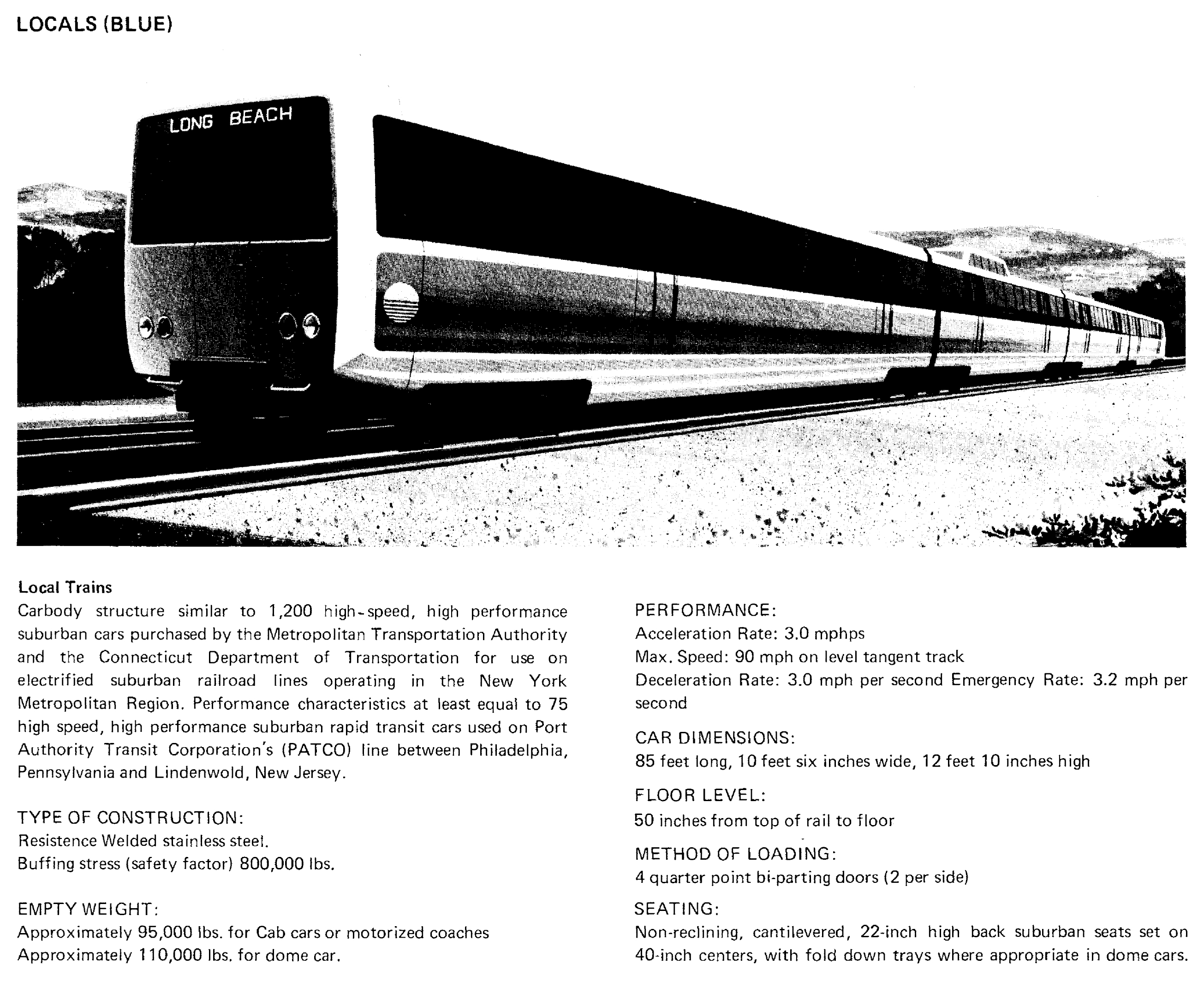 Following the defeat of a one-cent sales tax increase in June, 1976 which would have funded 232 miles of rail rapid transit, Ward came back to the LACTC, SCRTD and Board of Supervisors in 1978 with a proposal for a limited construction program.
The report proposed that rebuilding Los Angeles' rail network was not only desirable, but necessary, stating:
"If President Carter and other energy experts are correct, our supply of gasoline in Los Angeles County will either dry up or be too costly to use, beginning about the year 2001.

By then, our national petroleum supply from OPEC is figured to take up to 20% of this country's Gross National Product.

If we wish to remain mobile thereafter, we must have completed an etensive and high-speed transit system by that time."
More information can be found in the 1978 Sunset, Ltd. Limited Start Up Sunset Coast Line full-text document.
2002:  Los Angeles County Metropolitan Transportation Authority joins elected officials in celebrating the opening of the Alameda Corridor Project.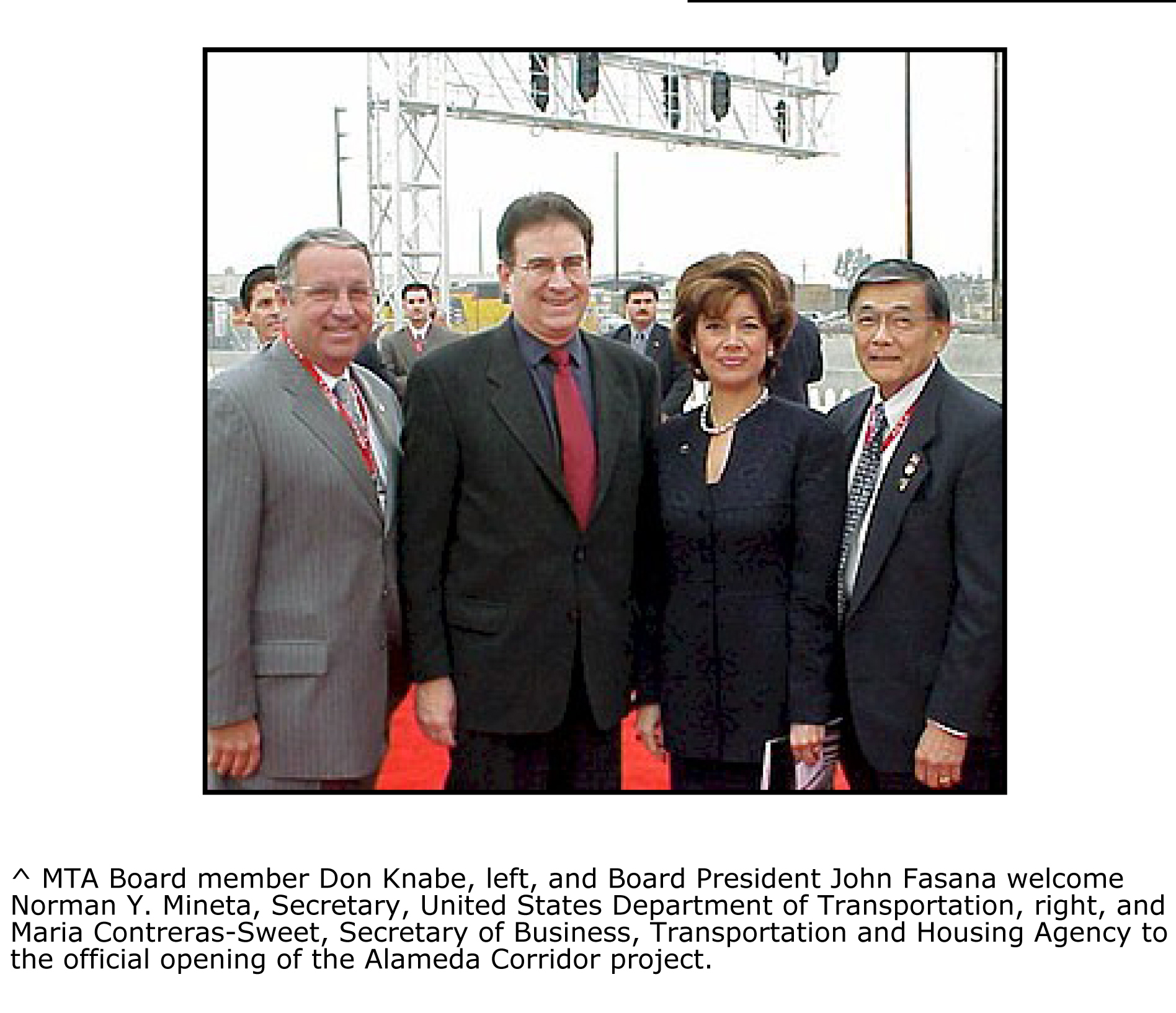 After more than two decades of planning and five years of construction, the $2.4 billion Alameda Corridor freight rail expressway officially opens, designed to speed the flow of cargo to and from the nation's two busiest ports 20 miles away.
The Alameda Corridor is a series of bridges, underpasses, overpasses and street improvements that separate freight rail, passenger and street traffic.
By consolidating four railroad branch lines, the Alameda Corridor eliminates more than 200 at-grade crossings where rail and street traffic conflict, thereby easing congestion, as well as air and noise pollution.
The project centerpiece is the Mid-Corridor Trench, a below-ground trainway running parallel to Alameda Street for 10 miles.
LACMTA provides $358.7 million towards the project for preliminary engineering and construction.
More than 1,000 people attend these grand opening ceremonies near downtown Los Angeles.
More information can be found in the April 12, 2002 issue of MyMetro employee news digest.
2010:  The Metro Transportation Research Library & Archive launches its Primary Resources blog to compliment the aggregated news and information found in its Los Angeles Transportation Headlines daily digital newspaper.

Primary Resources seeks to give a voice to the Library & Archive collection by highlighting interesting and notable historic milestones and events, taking a deeper look at significant local transit and transportation issues, sharing news and information regarding library and archive services, providing a research portal for the Library & Archives' disparate digital resources, and recognizing the importance of previous achievements in relation to current and future transportation planning and operations.