1995:  The Metro Green Line opens.
After more than ten years of planning, design and construction, the 20-mile light rail line begins carrying passengers between Norwalk and Redondo Beach, mostly down the median of the I-105 Century Freeway.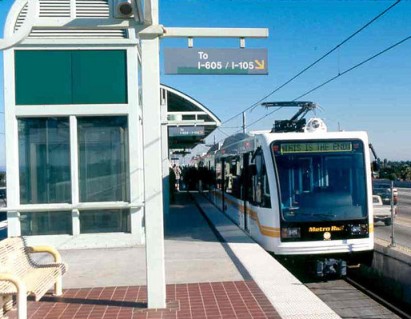 The region's third Metro rail opening following the Blue and Red Lines, carries 28,000 boardings on its first day (a Saturday) and 37,000 passengers the following day.
The line is cause for celebration in the communities it serves, stretching from the South Bay communities of Redondo Beach, El Segundo, Lennox and Hawthorne east to Lawndale, Westchester, Inglewood, Gardena, Watts, Compton, Wilowbrook, Lynwood, South Gate, Paramount, Bellflower, Downey and Norwalk.
When Caltrans first conceived of the Century Freeway, it was thought from the beginning that some form of transitway would be included in the median of the structure.
However, it took several years to iron out many challenges, including whether it should be a bus lane or track bed for a light rail system.
The line serves South Bay aeronautics companies as well as a connection to LAX at Aviation Boulevard station.
More information can be found in the August, 1995 issue of the MTA Review employee news magazine.