1910:  The Los Angeles Railway Corporation acquired all of the urban lines of the Los Angeles Railway Company, the Pacific Electric Railway Company of California, the Los Angeles Inter-urban Railway Company, and the Los Angeles and Redondo Railway Company.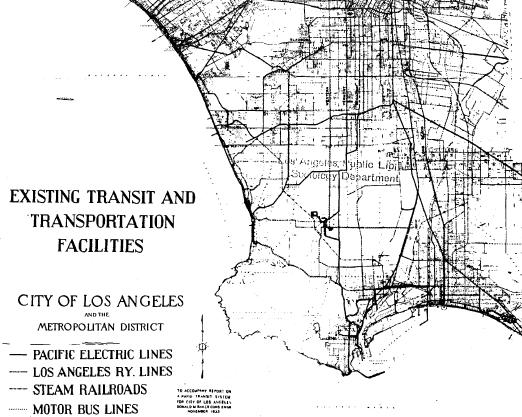 1933:  The Central Business District Association presents their Report on a Rapid Transit System for Los Angeles to the city and its citizens.
The report is made in hopes of securing a loan under the provisions of the National Industrial Recovery Act of 1933.
It recommends building a $37 million system and suggests the issuance of $30 million in bonds to finance the rest of the project.
The proposed system "is comprised of four lines radiating outward in four directions from the Central Business District":
Pasadena and the San Gabriel Valley
Southeastward from Whittier to Long Beach and San Pedro and including Orange County
The densely settled section between Downtown and Vineyard (now Palms), and the Santa Monica Bay Region
Glendale, Burbank and the San Fernando Valley Region
The report analyzes past and future growth for the region, explaining that the unparalleled rate of growth between 1920 and 1930 would not be as rapid in the future, even after normal economic conditions return to the nation.
Some notable parts of the report include operating costs extrapolated out to 1980 and predictions for rapid growth in the San Fernando Valley as far west as Chatsworth and Canoga Park which would necessitate use of Southern Pacific right-of-way (now the Metro Orange Line).
1974:  The Southern California Rapid Transit District Board of Directors adopts a policy to purchase all new buses with wheelchair lifts to accommodate disabled persons.  In taking this action, SCRTD becomes the first transit agency in the nation to adopt a policy calling for equal access to all bus patrons, including the 1.2 million disabled citizens of Los Angeles County.
More information can be found in the November 14, 1974 Southern California Rapid Transit District Board meeting minutes.
1992:  The Southern California Rapid Transit District Board of Directors approves the purchase of 202 more clean-burning methanol buses for $48.2 million to replace older diesel-powered buses.
The purchase makes SCRTD the largest single methanol fleet in the world.
More information can be found in the January, 1992 issue of Headway, the Southern California Rapid Transit District employee news magazine.
1994:  President Bill Clinton signs a Department of Transportation spending bill which allocates $85 million of federal funds for Segment 3 of the Metro Red Line.
More information can be found in the November-December 1995 issue of the MTA Review employee news magazine.