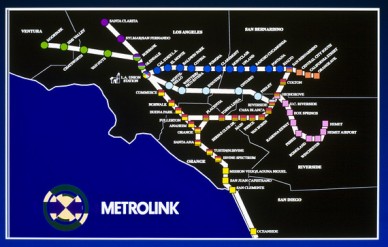 1991:  The Southern California Regional Rail Authority is created.
The five-county joint powers authority oversees the commuter rail services for  Los Angeles, Orange, Riverside, San Bernardino and Ventura Counties.
Within moments of its official birth, the Authority approves the name "Metrolink" for its commuter rail program.
The name reflects commuter rail's connection with the light and heavy rail (subway) lines of Los Angeles County's Metro Rail system.
The name, car design and logo are created by a 25-year old student from Art Center College of Design in Pasadena who submitted proposals as part of a class project.
The rail service is later launched October 26, 1992.