1900:
  Twelve men are buried when the west end of the 3rd Street Tunnel caves in.
Ten are rescued but a city inspector, the night foreman and another individual do not make it out alive.
Among the dead is Major W.T. Lambie, who had previously served as Chief Engineer on the San Fernando Tunnel project.
The city's population had grown approximately ten-fold since 1900 and by 1930, personal automobile ownership has become increasingly commonplace.
Board President Donald M. Baker states in his introductory paper that "seven or eight years ago, automobile congestion became serious" and that "one of our problems is to determine in the planning of our city to take care of its future millions."
Several prepared statements are delivered
, including analyses of the present problem, an interpretation of city charter provisions governing rapid transit, and what kind of traffic connections neighboring cities want and need.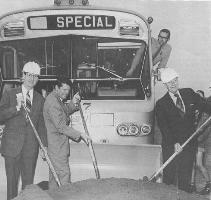 1972:  Governor Ronald Reagan and U.S. Secretary of Transportation John A. Volpe officiate at groundbreaking ceremonies for the the world's first bus rapid transit station in El Monte.
Southern California Rapid Transit District president Dr. Norman Topping and State Secretary of Business and Transportation Frank J. Walton are also on hand at the site located near the Gibson Overhead adjacent to the westbound San Bernardino Freeway.